Boundary
96 minutes, HD, Colour, 2013 ,Thailand/Cambodia/France, Khmer and Thai with English subtitles
A Mobile Lab production and Vycky Films , With supports from Arts Network Asia (ANA) , DMZ Fund , Asian Network of Documentary (AND) , Busan International Film Festival.

Logline

In the past decade, political conflict has shaken its social and cultural structure. Recently created history, which was understood more than half a century is now questioned.Some traces of history is being re-interpreted.

The connection of belief, society, culture and history of a country amazingly has an effect on a neighboring country and the whole region.
Synopsis
In 2010, Nontawat worked as a still photographer for a Thai film production. In that production, he met Aod, a 24-year-old workman from Sisaket province, a province that borders Cambodia, and the famous Preah Vihear Temple. The art crew hired him to build the set. He told his story that before he worked here, he used to be a soldier in Naratiwat, a province in the Southern region of Thailand. He had to leave his hometown in Sisaket province and was sent off to the southern which is dangerous from the insurgency. In early 2010, Aod was ordered to disperse the 'Red Shirts' protesters in Bangkok, but he was discharged before the decisive point of the situation. Aod's life inspired Nontawat to make a new film .
In 2011, Nontawat went to Aod's home in Sisaket with his own film crew. At that time, there were clashes between Thai and Cambodian soldiers. The dispute over the ownership of Preah Vihear Temple since a long time ago has caused political conflict between two countries, while political conflict in Thailand between 'Red Shirts' and 'Yellow Shirts' has made this ghost from the past arise. The journey of Nontawat in the boundary of the two countries has begun...
Director's statement
Everything began during the 2010 political crisis in Thailand. People in Bangkok are talking about the protest of the Red Shirts with different point of view. I was working in a local film production. In the production, I met Aod, a young man from Sisaket, a Northeastern province in Thailand that borders Cambodia and Preah Vihear Temple. Aod can speak Khmer. During his military service, he was sent to the South to fight the seperalists, and was sent to Bangkok to dissolve the Red Shirts protesters in 2010. After he was discharged from the army, he went back to his hometown. As I am Bangkokian, I want to understand the people living in the actual place where the conflict occurs. That is the reason I followed Aod to his hometown and made this film.
Before the border conflict, people over there lived peacefully. The conflict reappeared again during the political conflict in Thailand. There were protests in Bangkok for this issue. I don't know if the protesters want to reclaim the temple, or they just want to attack their political opponent.
Boundary is the imaginary line we marked it down to seperate the area. Boundary disputes happens anywhere. I believe that People living around the border area are the same group of people. They share the same culture, language and tradition, but from different political policy or many other reasons, boundary was made to seperate them.
This film was made to express my feeling toward 'Boundary', not just territorial boundary, but also boundary between social classes, boundary between birth and death, and boundary between happiness and sorrow.


Cast & Crew

Producer/ Director / Camera / Editor : Nontawat Numbenchapol
Co-Producer : Donsaron Kovitvanitcha, Chou Davy
Assistant Director / Additional Camera : Nunthapol Ajawakom,Kakrona Chan
Additional Camera : Adunwit Akkarawutmethakorn
Location : Sitthipong Junthasuk, Kanitha Tith, Penhlek Chan
Post-production supervisor : Lee Chatametikool
Post-production sound and mix : Nopawat Likitwong
Sound designer : Katenan Juntimathorn
Award
2014 - Young Director award in Bangkok Critics Assembly Awards, Tailand.
Official Selection
2014 - Human Right Dignity International Film Festival, Yangon, Myanmar.
2014 - Seoul Independent Documentary Film & Video Festival.
2013 - Cambodia International Film Festival.
2013 - Festival Film Dokumenter, Yokyakartar Indonesia.
2013 - Luangprabang Film Festival, Lao.
2013 - Verzio International Human Rights Documentary Film Festival, Budapest, Hungary.
2013 - International Documentary Film Festival Amsterdam.
2013 - Yamagata International Documentary Film Festival, Japan.
2013 - Milano Film Festival, Italy.
2013 - Salaya International Documentary Film Festival, Thailand.
2013 - Berlin International Film Festival.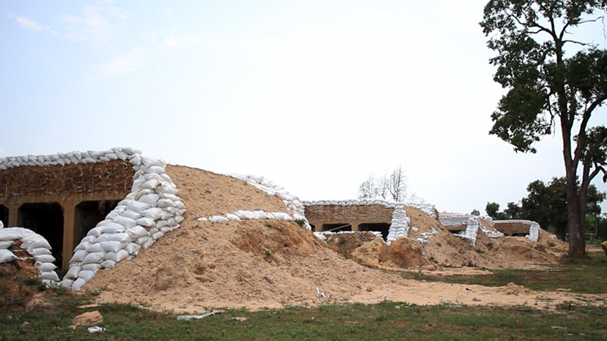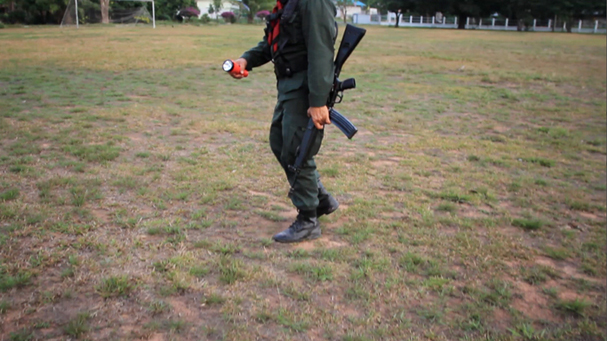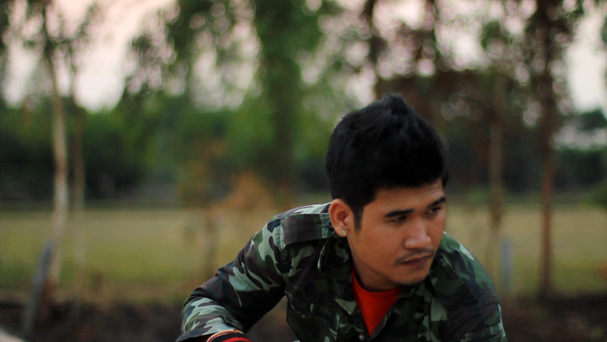 Boundary : ฟ้าต่ำแผ่นดินสูง - Nontawat Numbenchapol - Official Trailer(2013) from Mobile Lab on Vimeo.
NOW AVAILABLE ON VIMEO ON DEMAND.
https://vimeo.com/ondemand/boundary